Andrew James takes Esky's latest fixed pitch full body helicopter for a spin
Words by Andrew James. Photos by Andrew James, John Freeman
Readers of a certain age will well remember the Airwolf, an adapted Bell 222 helicopter used in the 1980s American TV series of the same name. Amongst its many attributes Airwolf was shown to be stealthy, with a low noise signature, heaps of weapons and it could even reach supersonic speed!
Article continues below…
Advert
---
Enjoy more RCM&E reading in the monthly magazine.
Click here to subscribe & save.
---
The ESKY 300 V2 reviewed here replicates the livery and sleek lines of that famous machine, with the added bonus of several bright LED lights to really help make the stylish black and white body stand out in flight.
This is a 300-size fixed pitch chopper with a flybarless rotor head, which reduces complexity and helps it survive the odd topple when taking off or any crashes into solid objects or walls. Although I am an experienced model heli pilot, I managed to tip her over the first time that I powered her up, so you don't need to be a beginner to make such basic errors! It turns out that carpet is probably not the best surface to start flying the 300 V2 from, and I was also a bit too careful when opening the throttle, a common error when testing any small helicopter. So, find a smooth floor and give it a decent amount of beans when flying the ESKY 300 for the first time!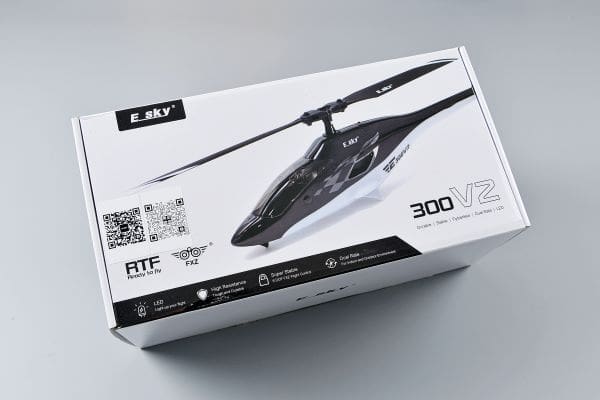 IN THE BOX
Article continues below…
Advert
The model is presented ready to fly, snuggling inside a smart white flip top box. An inner polystyrene tray also contains a 2S 7.4V 320mAh LiPo battery, a matching USB charger, spare main and tail rotor sets, a tool set consisting of a screwdriver and Allen key, and a neatly illustrated 20-page instruction booklet, the first half of which is in English, with everything repeated in Chinese at the rear.
There's also a mysterious sheet of see-through stickers of various shapes. These are actually Canopy Enhancing Tapes, which can be applied in matching areas to beef up any cracks. You can also apply the tapes before flying for the first time to help ward off any damage. And if you do damage the body badly, or any other part come to that, then it's worth noting that J Perkins stock a full range of spares.
The storage tray is quite deep, and I wondered why. So, I lifted it out and peered underneath; it was obvious really, as pushed inside from below is a small but fully formed four-channel 2.4GHz transmitter.
Article continues below…
Advert
There's even a set of four AA alkaline batteries to power it with!
The review model was supplied in Mode 2, but a Mode 1 option is also available if required.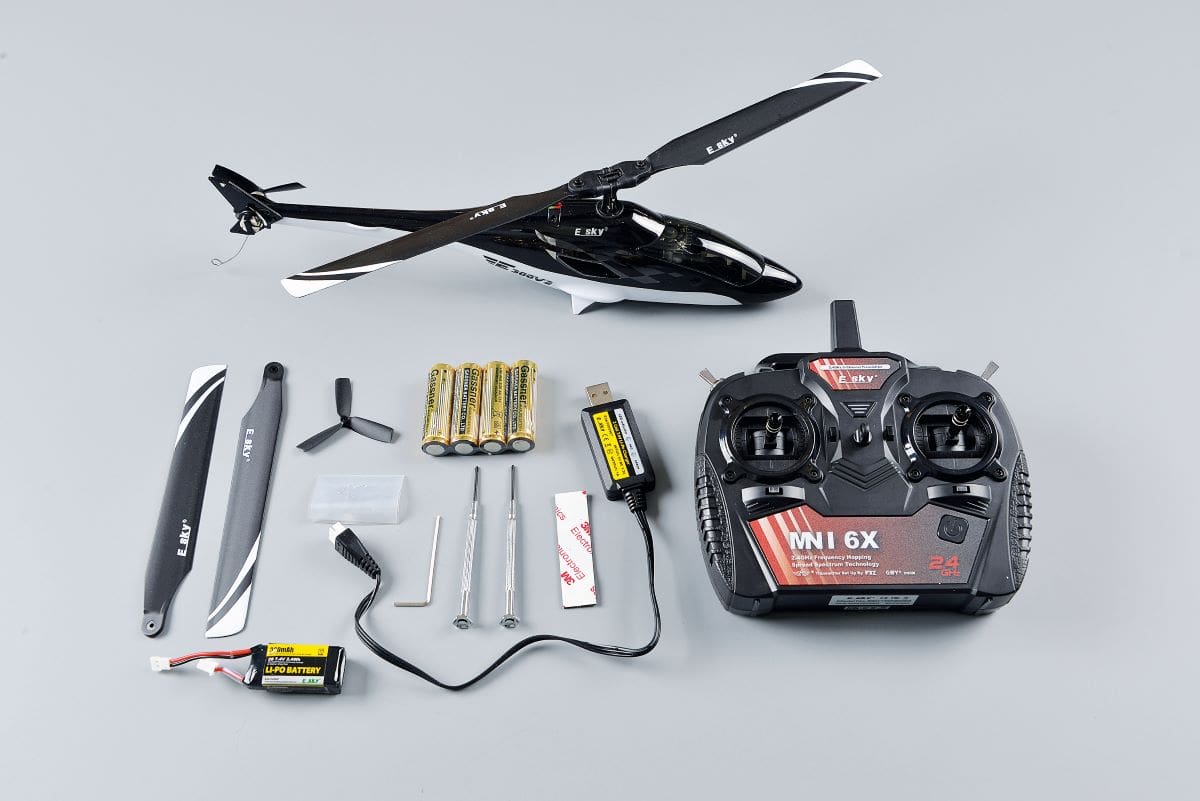 WHO IS IT FOR?
Article continues below…
Advert
ESKY say that the 300 is perfect for R/C pilots of all abilities and I have to say that's pretty accurate, although absolute beginners may find the narrow track undercarriage a bit problematic as it's little more than a tripod of plastic points extending from the underside of the body. There are no wheels or skids to help stabilise things as she builds up rotor speed prior to lift off. As I said previously, flying from a smooth floor, not carpet, is the best way to enjoy easy take offs with this smart little model. Failing that, just use a flat table mat as an improvised launch pad!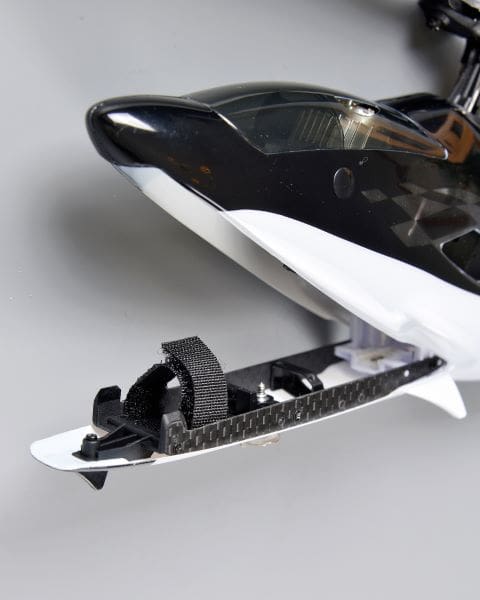 The 6-axis gyro stabilisation works well to keep things nice and steady whilst in flight. Even when pushed hard progress is still fairly sedate and I soon found myself wishing for a bit more rotor speed, just to raise the airspeed a bit so that I could enjoy putting together some faster circuits and figures of eights. The Tx does include a Dual Rate switch to help to spice things up a bit, although its main function is to provide more control authority when flying outdoors in windier weather.
But if you enjoy performing slow, scale-like flight patterns with a full body model helicopter, albeit one in miniature, then this smart 332mm rotor diameter Bell lookalike could be just what you are looking for when flying in calm conditions or at the local indoor meeting.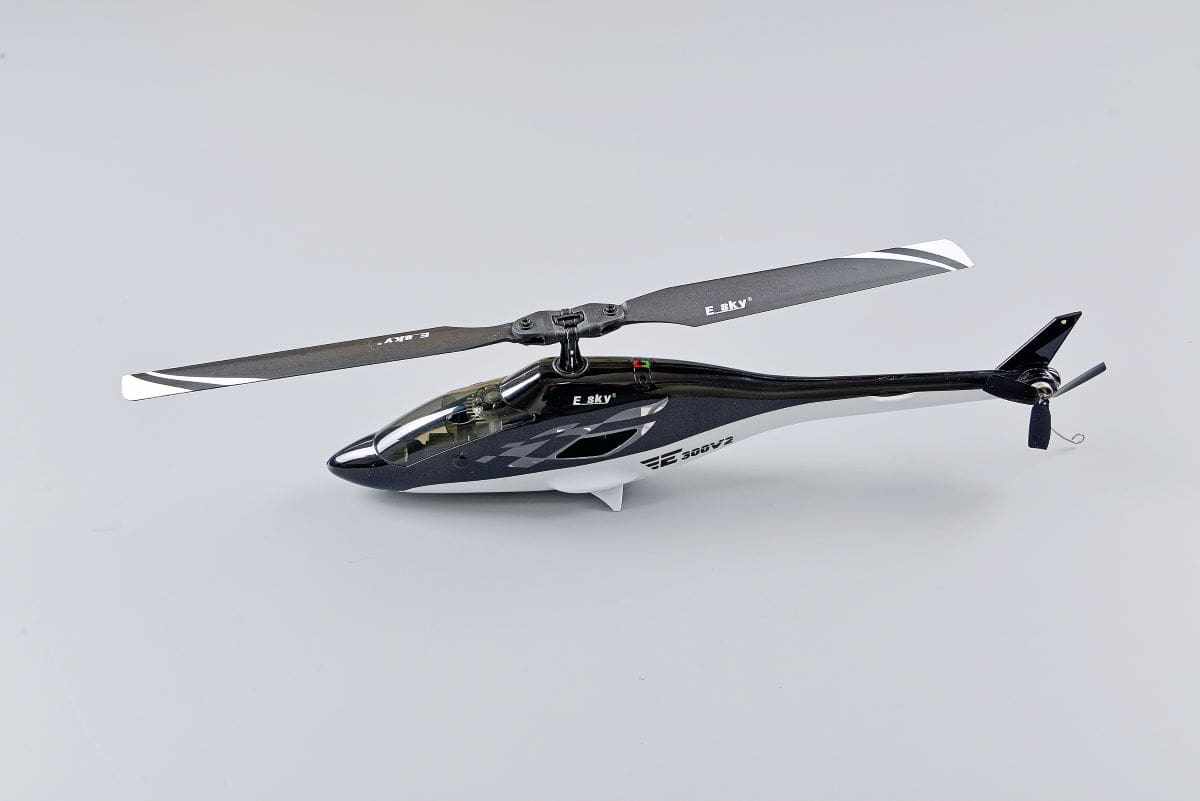 GETTING AIRBORNE
After turning on the transmitter you need to make sure that the Throttle Cut switch is set to
the red dot (power off) position. The 2S LiPo can then be plugged in and strapped to the battery tray, which hinges down from the belly of the model. A neat metal thumbscrew holds it securely in position.
A calibration switch situated just behind the main rotor head at the top of the body is then switched to its green position and the throttle stick is lowered. The Throttle Cut switch on the Tx is then flicked to the green dot position, at which time the rotor head will start to spin slowly and the model is ready to fly. So, now's the time to get her into the air and to enjoy floating her around the flying patch or the local sports hall.
Duration is between five and seven minutes, after which the green LED on the helicopter will start to flash, indicating that it is time to land and recharge the LiPo. After landing and disconnecting the LiPo both the Throttle Cut switch on the Tx and the Calibrate switch on the heli should be returned to their red dot positions so that they are in the correct orientation the next time you want to power up the ESKY 300 V2.
Incidentally, the Throttle Cut switch does what it says if operated in flight and is there as a safety feature if you lose control of the helicopter. To regain throttle control the switch needs to be put back in its green dot position and the throttle stick returned to its lowest position.
SUMMARY
If you are looking for an easy to fly, relatively slow flying model helicopter to fly in calm conditions outdoors, or indoors in a large room or at your model club's regular indoor meetings, then the ESKY 300 V2 is well worth considering. Its benign, well stabilised handling will help you keep it out of trouble whilst you practice scale like circuits and enjoy the full body appearance as the Airwolf patrols the skies!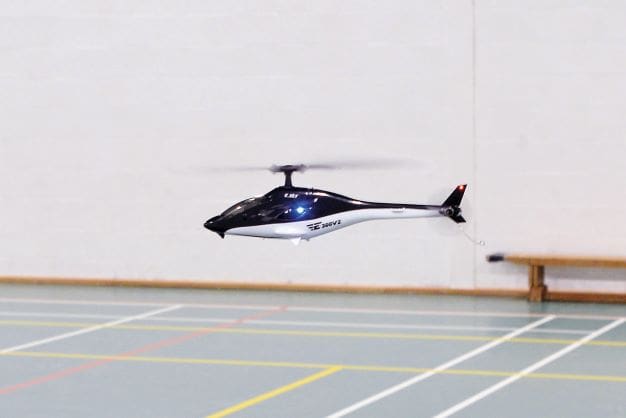 ---

Enjoy more RCM&E Magazine reading every month.
Click here
to subscribe.