It's a Fokker, it's Finnish and it has a radial! Alex Whittaker takes us on a 360-degree tour of an unusual warbird 
The Fokker DXXI was designed by Eric Schatski in 1935. Eric then was working for Junkers and was also a commercial Lufthansa pilot, as well as a test pilot. He later moved to the USA and became involved in the development of the P-47 Thunderbolt fighter.
The design was in pursuit of a Royal Netherlands East Indies Army Air Force specification. It was designed with a steel tube fuselage and a fabric finish. It had a discernible razorback to its fuselage and was fitted with a draggy, be-spatted undercarriage. Surprisingly, it was originally powered by a Bristol Mercury radial engine, which drove a three-blade propeller. Later marques, as flown by Finnish pilots, often had the Bristol Pegasus engine or the 825hp Pratt & Whitney Twin Wasp Junior radial engine. The prototype first flew on 27 March 1936.
Article continues below…
Advert
---
Enjoy more RCM&E reading in the monthly magazine.
Click here to subscribe & save.
---
IN SERVICE
From the outset it was intended as a small, rugged and economic aircraft, well suited for operation in overseas territories. As well as less complex, the fixed undercarriage was seen as an advantage on unmade strips. On entering service, it was a significant advance on the previous biplane fighters available to the Dutch. Its development also sparked interest in a number of foreign governments, including those of Finland and Denmark. The Spanish Government even set up a plant to build DXXs under licence. None were completed since the factory at El Carmoli was over-run. Then, on 30th November 1939, the Soviet Union invaded Finland. 
At that time, the Finnish Air Force had a number of licence-built D21s in its possession. The rugged build and fixed undercarriage of the D21 suited the demanding conditions of the Finnish front line in 'The Winter War'. Some were even fitted with snow skis. Although early marques were often considered under-armed with a single Vickers .303, the D21 proved to be very manoeuvrable and could attack dive bombers mid-dive. Despite being outnumbered and under equipped compared to the Soviet Union, Finnish pilots gave the Reds a bloody nose. One Finnish Ace, Jorma Sarvanto, was credited with 12 and 5/6th victories flying a Fokker D21. In fact, Finnish pilots acquitted themselves exceptionally well throughout The Winter War. Although the outcome in favour of the Communists was never in doubt, their performance did demonstrate what a valiant, but smaller air force, equipped with far higher morale, could achieve. In all only 148 Fokker D21s were built, the last leaving service in 1948.
Article continues below…
Advert
THE MODEL
The model is owned by Mark Roberts. He commissioned the model from the shadowy 'Spartacus'. Spartacus shuns the limelight, lives in the Midlands and has superior craft skills. He is equally happy working in wood, metal and composites. His scale models are always built to an exquisite standard. Many fly on the UK warbird, scale, and show circuits. Hi Fokker DXXI looks good from every angle. She is built to 4.5:1 scale and has a wingspan of 98". She weighs in at 31 lbs. ready to fly. She is fitted with a DLE 55cc rear-induction petrol engine.
Article continues below…
Advert
PLAN & DOCUMENTATION
The model was built to the large-scale plan provided commercially by famed US modeller, Jerry Bates.
Mark based the scheme of his model on a Finnish example, as featured in the Osprey paperback: 'Aircraft of The Aces of World War 2' by Karl Stenman and Peter de Jong (ISBN-139781780960623). This is a monograph in the Osprey series, dealing exclusively with the D21, so it is packed full of relevant facts, drawings and images. We should note here that the Swastika had quite a different meaning in both Finland and England at that time.
Article continues below…
Advert
CONSTRUCTION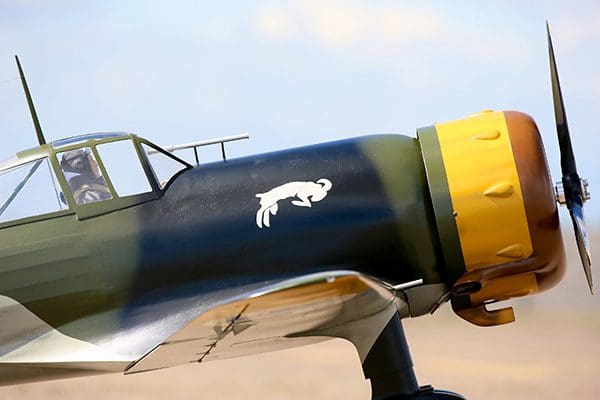 Spartacus specialises in large, traditionally built scale aircraft. We have covered many of his models in these pages before. They always have a balsa and plywood structure.
The forward part of the D21's fuselage has balsa and plywood formers, sheeted in balsa back to the trailing edge of the wing. The rear of the fuselage is stringered, with areas lightly sheeted for strength, and also to replicate the scale tubular structure. The wing is utterly conventional, except that it is built in one piece. The wing has balsa ribs, with spruce spars, and was then covered in balsa sheet, with some high stress areas finished in light-ply.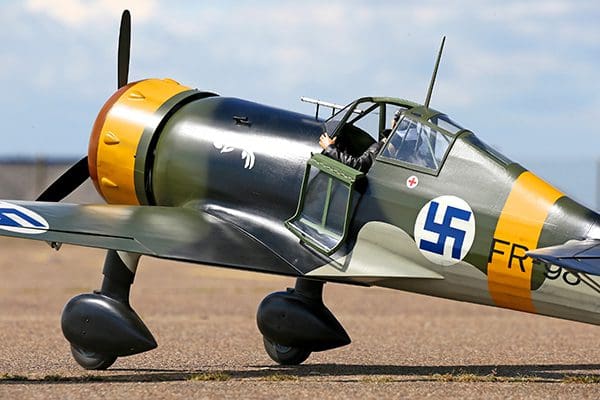 The tailplane and fin are all built up.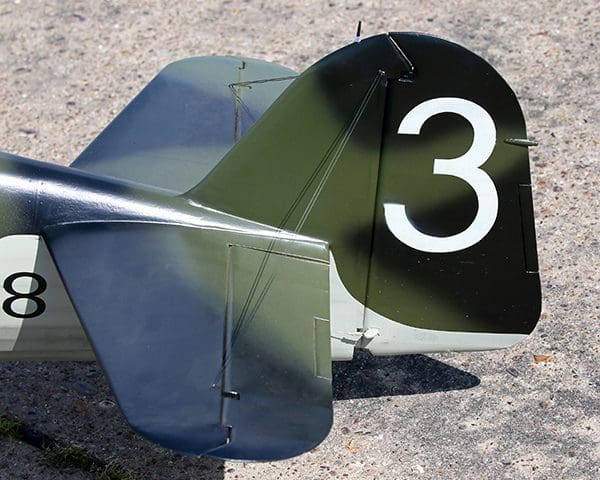 ENGINE, PROPELLER & EXHAUST
Mark chose a DLE RE 55cc Rear Exhaust petrol engine. This version has electronic ignition.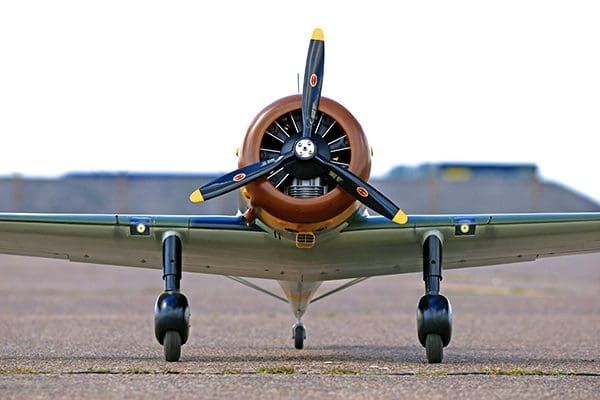 He flies the D21 with either a 23" x 8" two blade or a 22" x 10" three blade propeller, the latter used for enhanced scale fidelity. She does look very fine with a three blader ahead of her radial cowl.
The D21 easily swallows the standard DLE exhaust.
A fine dummy radial moulding was supplied by Vacforms.
UNDERCARRIAGE
Spartacus designed and fabricated the whole fixed undercarriage, including spats.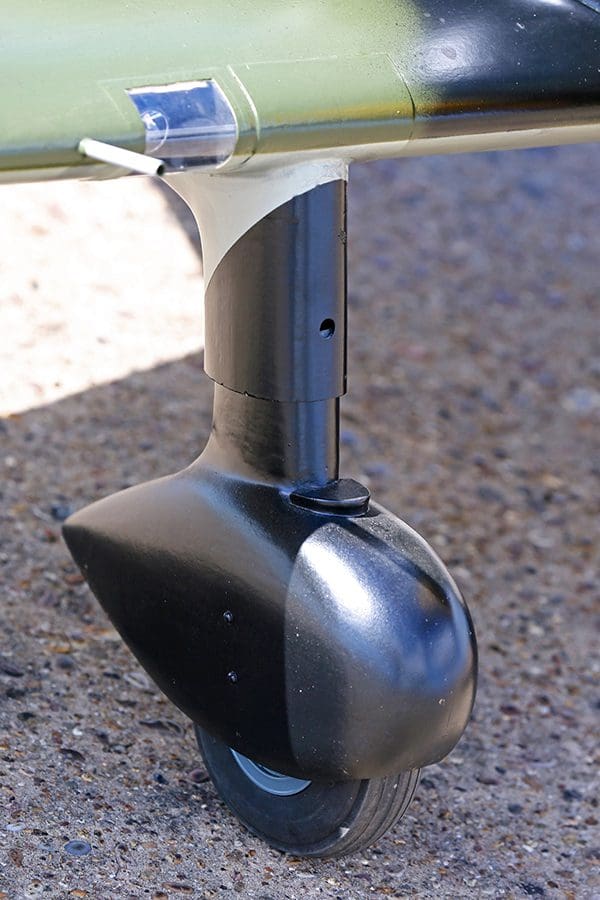 The wheels are 6" DuBro items from the USA, modified to suit.
COWL, SPATS & COCKPIT CANOPY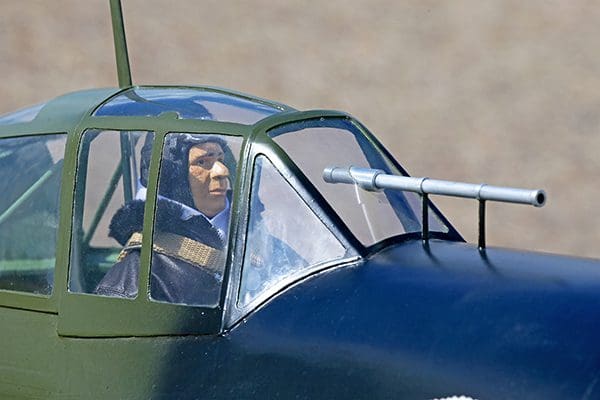 Spartacus is the consummate traditional builder. He hand-crafts each part of the model. For GRP moulded items, such as the radial cowl, the undercarriage spats and the canopy, he makes all his own plugs, masters, moulds and tooling. From these he produces his own scale cowls, canopies and scale details.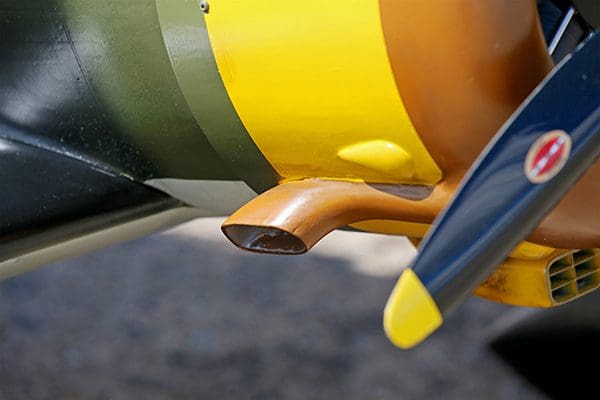 COCKPIT DOOR
Besides moulding the cockpit canopy from his own plug, Spartacus set about modelling the D21's distinctive cockpit door arrangement. This is a significant part of the D21's character. The opening cockpit door, complete with piano hinge, is a minor work of art.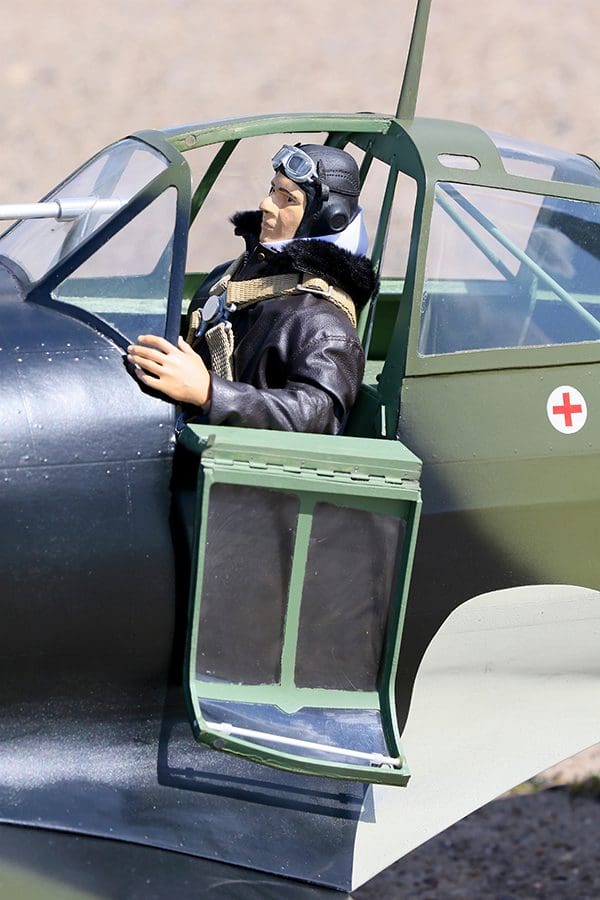 The fine pilot, with the oddly familiar-looking face, was sourced by Mark from FighterAces.
COVERING & PAINTING
This fuselage is covered in two parts. The upper fuselage was finished in traditional doped tissue. For strength, practicality and scale appearance the bottom of the fuselage was finished in Solartex.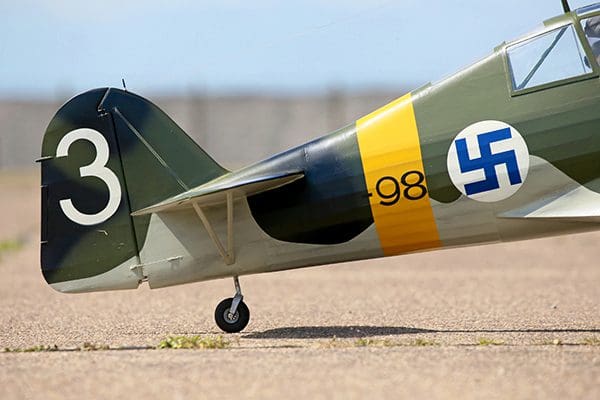 Mark painted the model with enamel paints, sourced via a well-known fellow warbirder, Richard Scarborough. A professional vehicle painter, Lee Smith of Clements Plant Sales spray-painted the entire model. The model was sealed with Ronseal Satin Varnish.
Close associate of Spartacus, Chris Peers, cut all the paint masks.
Tapes for the rivets and panel lines were sourced from Mick Reeves Models.
LANDING & WINGTIP LIGHTS
The high visibility landing lights were sourced from BRC Hobbies.
The wingtip lights came from Maplins.
CENTRE OF GRAVITY
The C of G was fixed at 26% chord for the first flight. This entailed adding 2kgs of nose weight to the cowl.
FLYING NOTES
Chris Peers undertook all the test flights at Winteron MFC, before handing the model over to Mark.
Mark reports that the model lifts off beautifully but requires quite a long take-off run. Directional stability is good on the ground, but Mark observes that she needs a timely application of rudder once there is daylight under her wheels. Test flights indicated that she could drop a wing on half flaps if care was not taken to watch the airspeed. Faster and smoother is better. Mark remarks, "You have to fly the model at all times otherwise she could bite you…"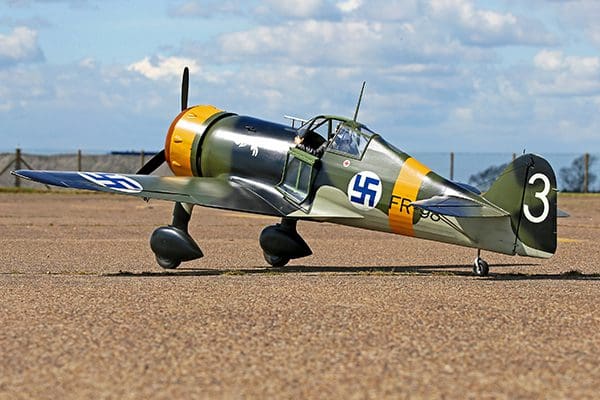 Overall, she is very responsive to flaps. However, unless you pay simultaneous attention to the throttle it is very easy to provoke an excessive climb. Mark told me that she is quite a tricky model to fly unless you are a very experienced warbird pilot. He then said, with a wry smile, "…better than me!"
Mark also told me that he did not relish a dead stick landing with this particular Fokker. Mark has now moved the battery to the cowling, allowing him to preserve the CG whilst reducing the payload of lead.
Finally, Mark says she looks superb in the air (he is right) and she is extremely scale-like (right again). Looking at the photos it is hard not to be impressed by such a well-conceived aircraft. A rare and beautiful scale model, immaculately constructed and finished: you will not see her like for many a flying season.
---

Enjoy more RCM&E Magazine reading every month.
Click here
to subscribe.