Roy Thompson takes his trio of models associated with the famous ejection seat manufacturer to the company's airfield at Chalgrove in Oxfordshire
Words » Roy Thompson. Photos » Roy Thompson, Colin Low, Dave Chinery, Jim Young
I was a very lucky boy recently and very privileged to be given special permission by the Martin-Baker Aircraft Co. Ltd. to visit their hangar at Chalgrove in Oxfordshire, fulfilling a long-held ambition to photograph my fleet of Martin-Baker aircraft alongside their current aircraft.
Article continues below…
Advert
---
Enjoy more RCM&E reading in the monthly magazine.
Click here to subscribe & save.
---
As a child I was brought up in a house where both my late father and older brother worked for Martin-Baker. As a consequence, I have heard many stories about Sir James Martin, the inventive engineering genius behind Martin-Baker.
One of my Dad's favourite tales was that when Sir James would hire anyone, his joke was to say: 'I'll pay you X amount a week, plus whatever you can nick!'
Then there was the day my brother's departmental boss flew his own vintage aircraft from Denham to Chalgrove rather than drive. James, being amused by this, asked him: 'How is it that you can afford this on what I pay you?' To which the department head replied: 'You remember when I started, you said, plus whatever I could nick!'
Article continues below…
Advert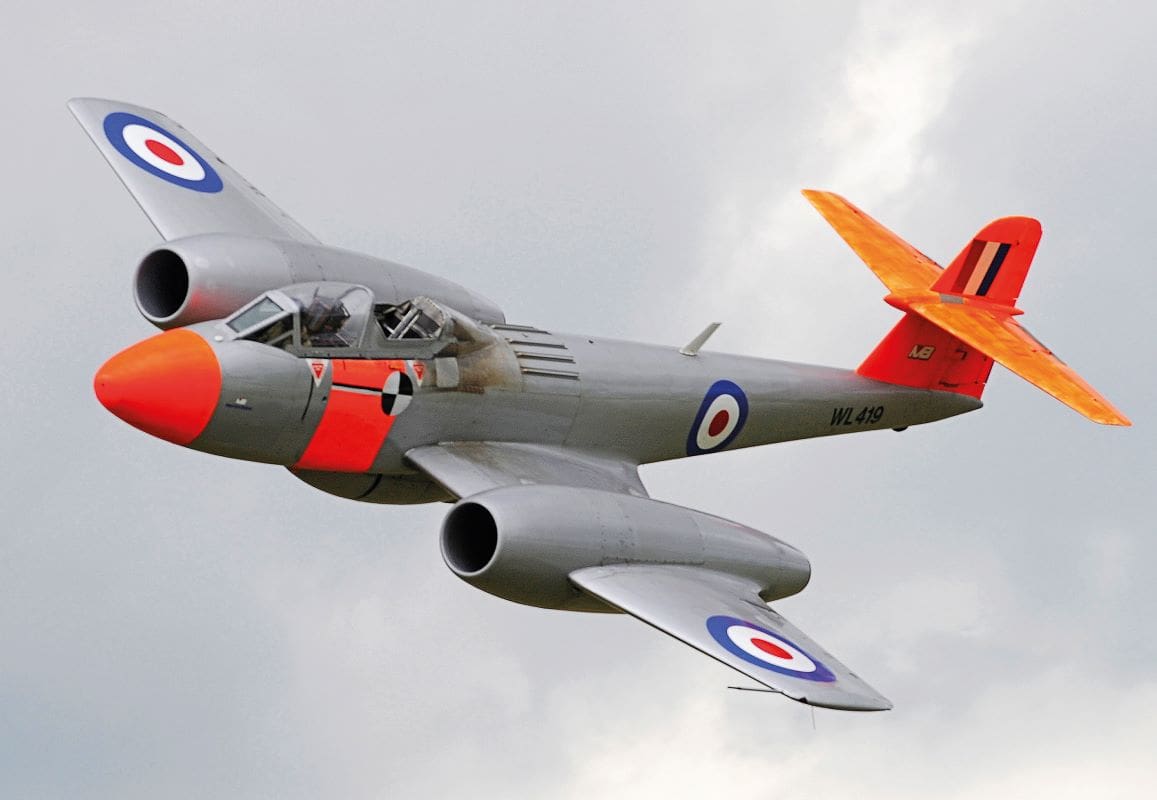 This explains my fascination with Sir James and the Martin-Baker Aircraft Co. Ltd., and why many of the model aircraft that I build have this as a common theme linking them.
I never met the man, unfortunately. The closest I ever got was one school holiday in the early 70s. I was sitting on top of an old fire truck outside the hangar at Chalgrove, watching the Meteor taking off to fly an ejection seat test. As a kid this wasn't a bad way to spend part of my school holiday.
To my side a black Bentley pulled up and Sir James got out to watch proceedings. After the shot, the pilot Sqn. Ldr. (Fifi) Fifield (the first man to eject from a runway in 1955) disappeared in the Meteor to burn holes in the sky. It was then I remembered to look back, but Sir James had gone.
Article continues below…
Advert
MARTIN BAKER: THE FIRM
Today the company is famously known as the leading manufacturer of aircraft ejection and crash worthy seats. Their seats have saved over 7660 lives since 30 May1949, when Jo Lancaster made the first emergency ejection from his stricken AW52 experimental Flying Wing.
Jo went on to live to celebrate his 100th birthday back in February 2019. Sadly, he passed away in early August the same year. If it hadn't been for Martin-Baker, Jo would probably not have had those extra 70 years.
Article continues below…
Advert
James' aviation ambitions can be traced back to 1929, with the Martin Aircraft Works at Denham. This is a time when private aviation was becoming popular and James had started taking flying lessons from Valentine Baker at the London Aero Club at Stag Lane. Valentine was to become James' close friend, business partner and test pilot.
Among Valentine's other pupils were two names of note – Francis Francis and Amy Johnson. Francis was to go on to be the third person, alongside Valentine Baker, who was instrumental in the setting up of the Martin-Baker Aircraft Company Ltd in 1934.
Amy's life is well documented, but not so well known is that this group would often meet for dinner and discuss James' first aircraft design. It was Amy who James originally intended to test fly and demonstrate his first aeroplane.
It's a possibility that it may have been James who gave Amy the idea to fly solo to Australia, in order to make her name and overcome the prejudice against woman pilots. James later supported Amy in the preparation and promotion of her flight. On the day he even gave her his wristwatch, when just before departing Stag Lane Airfield she noticed hers wasn't working.
The newly formed Martin-Baker Aircraft Co. produced a series of prototype aircraft between 1934 and 1945, fitted around many other engineering projects, mostly intended for the Royal Air Force. These included jettison-able cockpit canopies for Spitfires, flat belt feeds for Hispano Cannons and installing twelve .303 Browning guns into a modified Douglas Havoc nose. Building aeroplanes was the company's mission, but the manufacturing of everything else at the time was a secondary but financial necessity.
MARTIN BAKER: AIRCRAFT
A total of four prototype aircraft were built in the factory at Denham:
MB1 (G-ADCS) – a two-seat low wing touring aircraft using James' patented lattice-girder system of construction. It was powered by a 160hp Napier Javelin engine, giving a top speed of 125 mph.
MB2 (G-AEZD, later P9594) – a single seat monoplane fighter to specification F.5/34, powered by a 1,000hp Napier Dagger III engine. Notable for its lack of tail fin in its early design, but eventually fitted with a conventional tail.
MB3 (R.2492) – a single seat fighter to specification F.18/39, powered by a 2,000hp Napier Sabre engine. This aircraft was lost early in its trials, resulting in the death of Valentine Baker.
MB5 (R.2496) – a single seat monoplane fighter to specification F.18/39, powered by a 2,340hp Rolls-Royce Griffon 83 engine driving a pair of three-bladed counter-rotating propellers. This was the last, and most legendary, of MB aircraft designs.
CHALGROVE AIRFIELD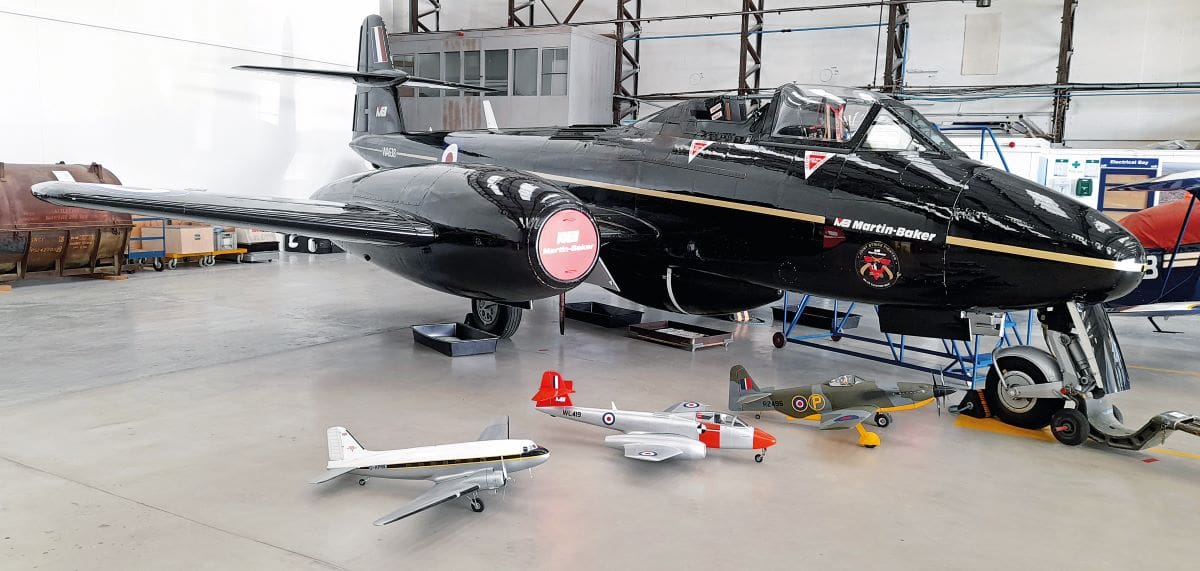 In the company's hangar today at Chalgrove are kept two of the oldest military jets still flying, the T.7½ Gloster Meteors used to flight test the latest Martin-Baker ejection seats; WL419 (G-JSMA) in silver and WA638 (G-JWMA) in black.
WL419 has carried out 254 ejection seat tests and WA638 582 tests to date. Although WL419 was undergoing a major check at the time of my visit, both are kept in airworthy condition. Their remaining fatigue life should see them remain airworthy for years to come.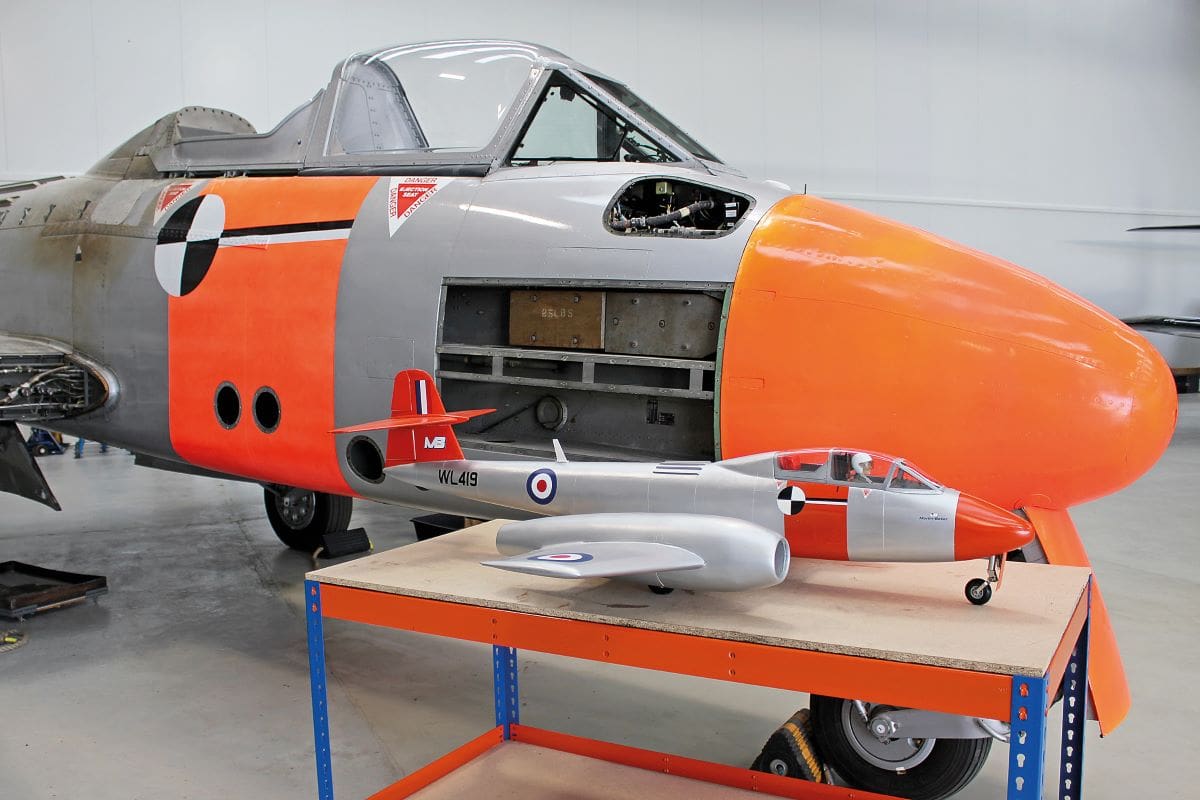 For an aviation geek like me it is fascinating to get the chance to have a good look round an aircraft when it is stripped down. On a stand next to WL419 was one of the Rolls-Royce Derwent MK9 engines waiting to be refitted. It's a direct descendant from Sir Frank Whittle's Power Jets. I'd forgotten how small these engines are when compared to the RR Trent 800 or GE90 that I'm more familiar working on.
The aircraft are unofficially described as T.7½ because although built as T.7 tandem-seat trainers they were fitted with larger tails from the Meteor F.8 for better flight handling.
One other item that caught my attention was the front fuselage from Meteor FIII, EE416, which conducted the first live ejection seat test. Bernard Lynch was in the hot seat on 24 July 1946, when at 8000ft and doing 320mph he ejected himself from the aircraft. The seat worked perfectly, and he landed safely. This was an exhibit in the Science Museum for many years, until it no longer fitted with the museum's changed emphasis.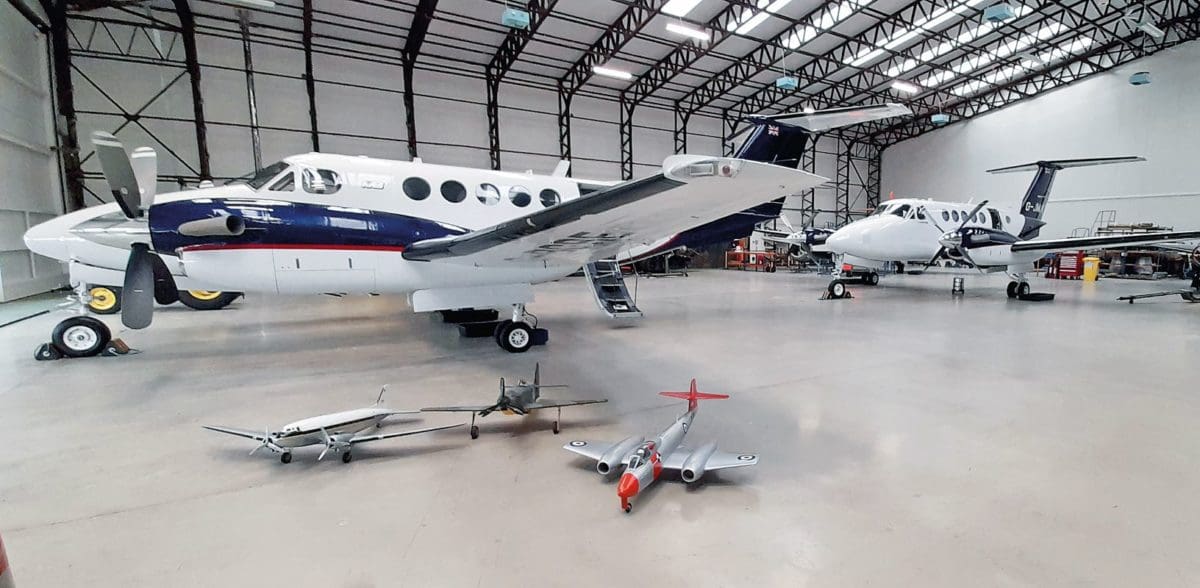 Adjacent to the Meteors were two Beechcraft King Airs, G-BGRE and G-JMAW. These are the company's transports that are also used for charter work when not flying on company business.
The aircraft are expertly looked after by Hangar Manager & Aviation Engineer, Alan Clark (the role that my father once held) and Aviation Engineer, Iain Whitehead. I must thank them both for all their help, information and cups of tea.
MB5 MODEL
Among the three models I took with me was the MB5. It's an aircraft I've always found fascinating. Many times, I contemplated how to build an R/C version with working counter-rotating propellers.
In the late 90s Dave Chinery successfully flew a Bristol Brabazon electric model with working counter-rotating propellers. It was his success with his Team Geared Motors that reawakened my own interest in the MB5.
I started work on my own electric motor and gearbox unit in 2000. Then, after two years of experimenting with different brushed motors, propellers and cell combinations, I was finally confident that I had a unit capable of powering an 1/8 scale model.
This first design of the Thompson Contra Motor 1 (TCM1) consisted of a model boat prop shaft mounted in two bearings. One motor drove the centre shaft, the second drove the shaft outer casing in the opposite direction. From memory, I think it gave about 700 watts of power.
At the same time, I had collected drawings, photos and other information. Then in 2002, with a set of modified Bob Holman 1/8 scale plans, I started building the 55" (1397mm) span model. It was to take me until October 2005 before she was ready to maiden, using 20 C-cell NiCads and with an AUW of 13.5 lbs (6.12kg).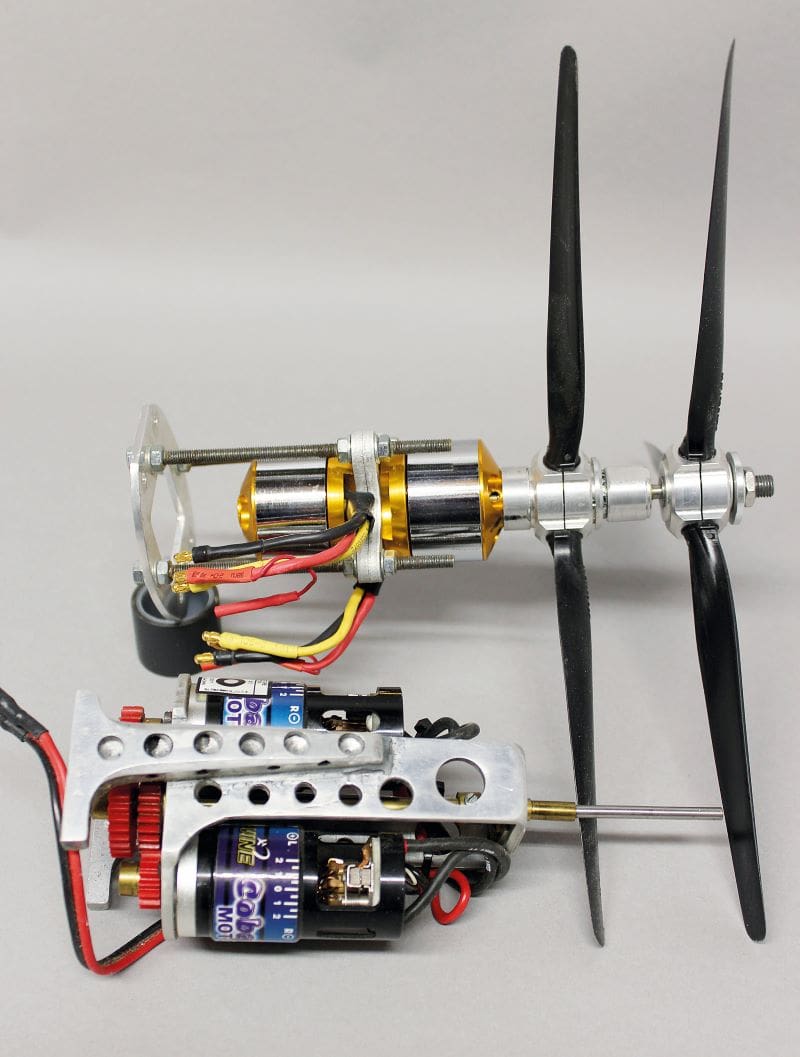 Over the years she has gone through a host of upgrades. In 2007, I changed the motor unit to twin brushless outrunners on 3S LiPos, which I called the TCM2. The two motors are mounted back-to-back, with the aft motor driving a shaft through the centre of the front motor. This set up produced a 1000W of output power and the AUW reduced to 10lbs (4.54kg).
Then followed TCM3.1 in 2009, an improved 4S unit fitted with 4-Max PPO-4250-800 motors providing 1.6kW of power.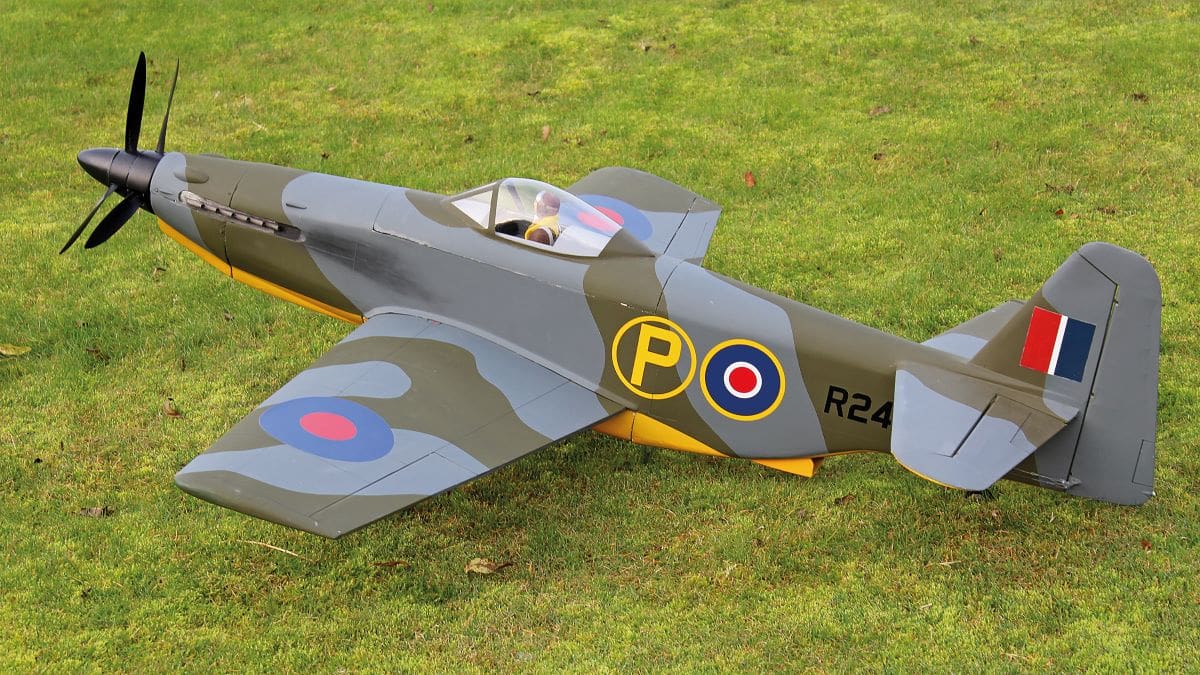 DOUGLAS DAKOTA
Beside the MB5 we had the Dakota DC3 G-APML. This was the Martin Baker company transport from 1958 until 1981. It was the first aircraft that I flew in, from Chalgrove to Prestwick. It's funny how Dad always coincided the Dak's major checks with school holidays and where it went, that's where we went on summer holidays! Prestwick, Southend and Exeter.
The model is from a Tony Nijhuis kit that I started building in 2009 and finished in 2011. It is powered by two Turnigy B36-56-1200kV brushless inrunners fitted with GWS 10 x 6 props and running off a single 3700mAh 3S LiPo pack.
I made a few mods to Tony's Dak, building my own retracts that work closer to the real thing, as well as plunge moulding flush cabin windows.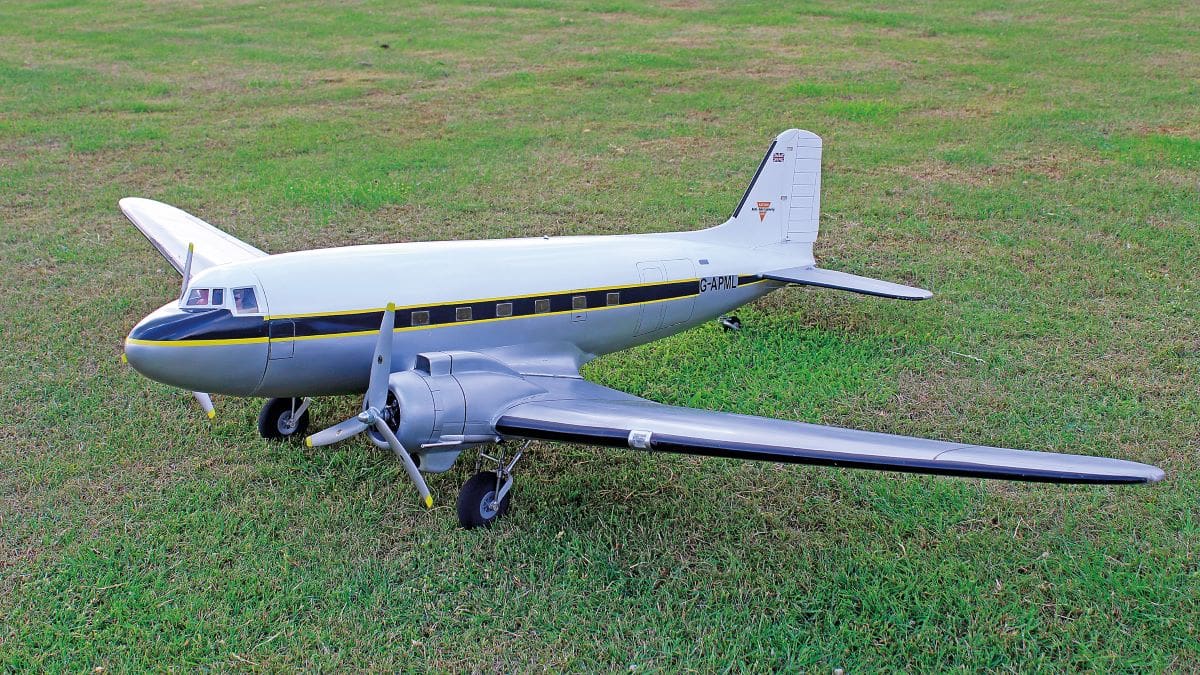 GLOSTER METEOR
The last of the models that I took to Chalgrove is the 1/10th scale EDF Gloster Meteor, a very under modelled aircraft. Mine comes from a T&J Models short kit designed by Jim Young in the USA.
Jim was like an American version of Tony Nijhuis. Designing and building some wonderful models, he would then publish them in the AMA's Model Aviation magazine and produce it as a short kit.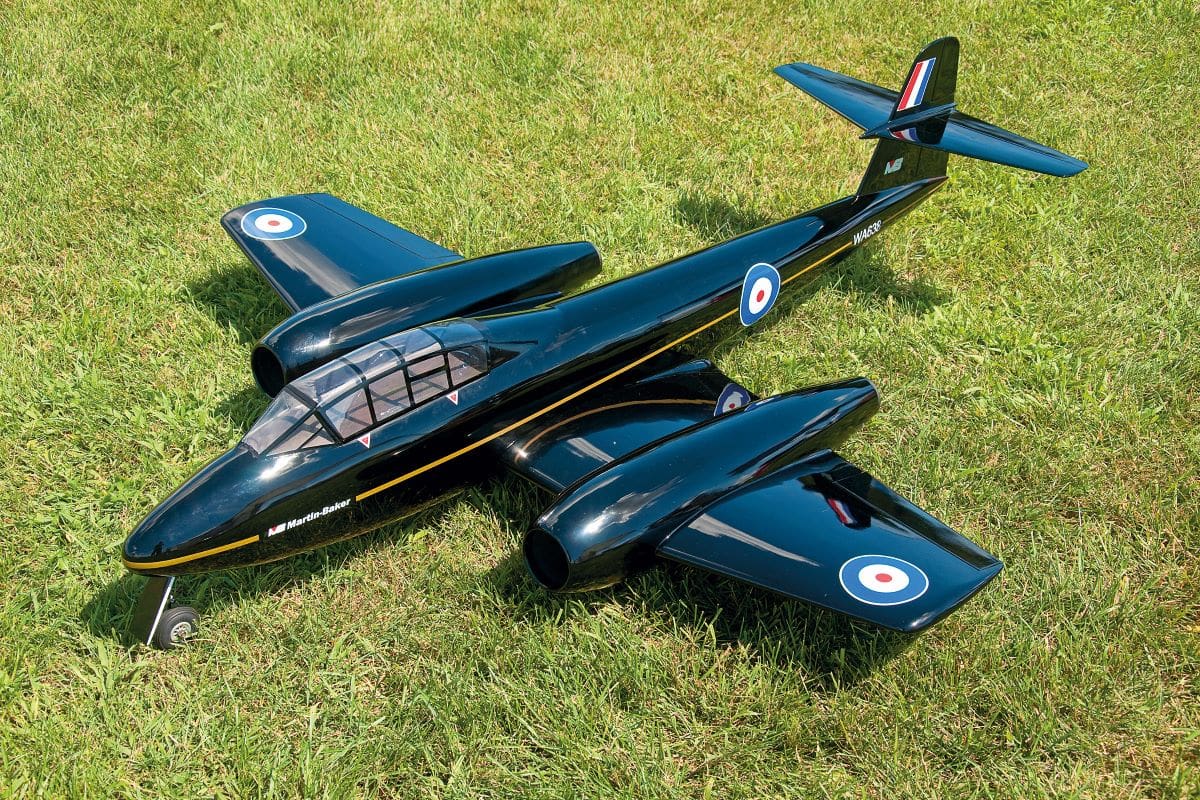 The model has a 51.6" (1310mm) wingspan and is powered by two RC Lander 68mm (five blade) EDF ducted fans on two 5000mAh 4S LiPos, giving 1,500 watts. Its AUW is 9.5 lbs (4.3kg). If you enjoy balsa bashing, then this is the model to have. But be warned, there is a lot of planking to keep you going!
I collected my beta kit from Jim at the 2011 Toledo Weak Signal RC Expo in Ohio and finished it in October 2014. Jim modelled his prototype on the black Meteor WA638, with detailed photos that I provided. I'm glad I had the chance to see a Toledo show and it gave me the opportunity to examine Jim's WeMoTec Mini Fan powered prototype up close before I started on mine.
Jim makes such a fantastic job of all his models that at Toledo 2010 the Meteor came home with third place in the Jet category. That was no mean feat when up against gas turbine models! It would have been fantastic if we could have ever brought the two models together but, unfortunately, I can't ever see that happening.
Jim stopped selling his model kits in 2016 and Manzano Laser Works (https://manzanolaser.com) took over production of Jim Young's range of kits in the US, should you want one.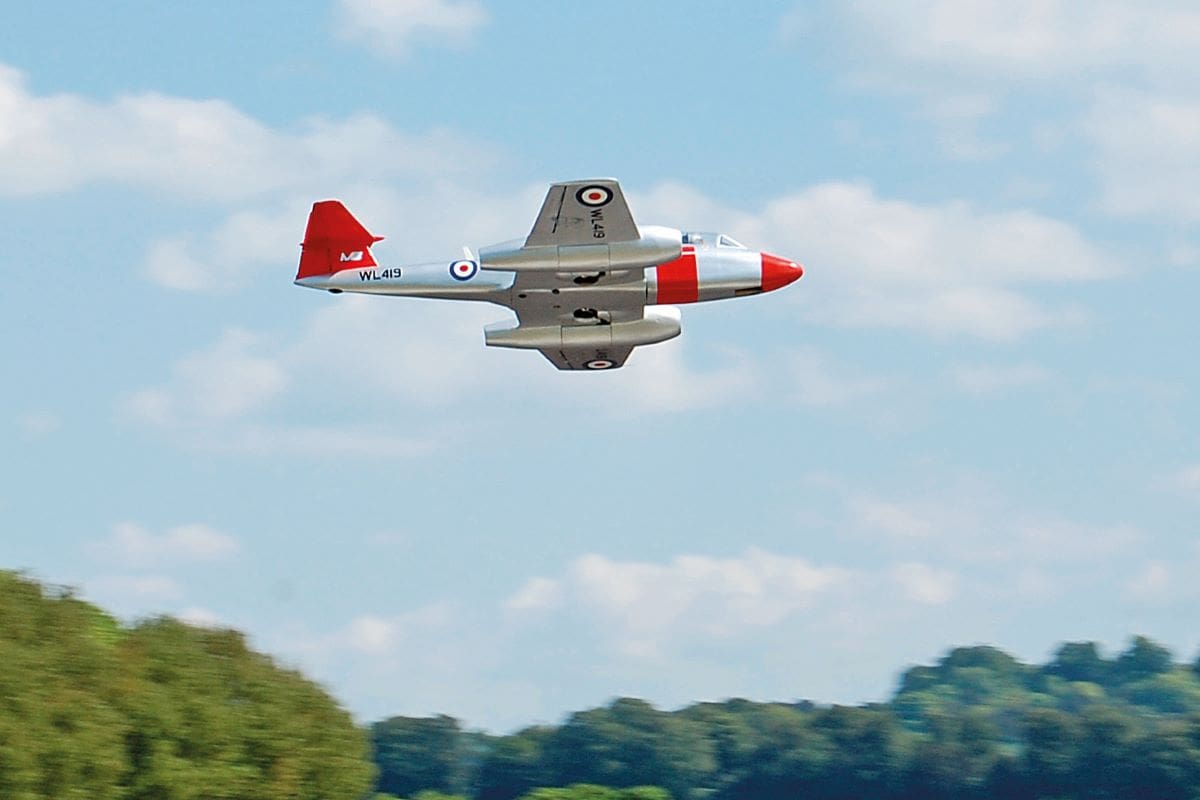 HOMECOMING
It's taken me a long time to not only build but to have all three models in a flyable condition at the same time. I will confess at one time or the other I've bent all of them more than once, so I stopped flying them a few years back in the hope I would get this chance to take them to their spiritual home. I suppose now I can start getting them back into the air…
The only model missing was a small 34" span MB2 that I designed and built in 2009 using a solid balsa wing. Unfortunately, this model has long since seen better days. But maybe someday I'll give it another go.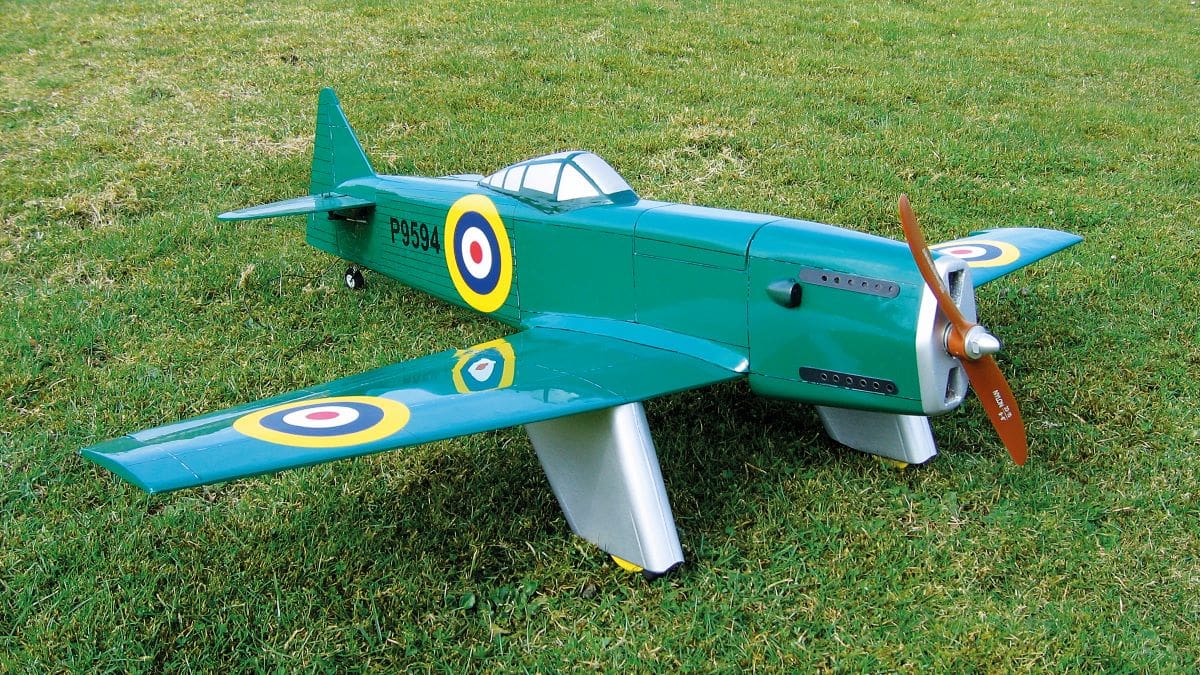 My thanks go to my brother David for organising the day and to everyone I met at Chalgrove for their help. Also, many thanks to Colin Low, Dave Chinery and Jim Young for their photos.
---

Enjoy more RCM&E Magazine reading every month.
Click here
to subscribe.